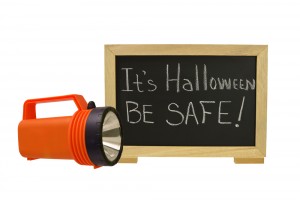 The Halloween season has come and with it, all sorts spooky sensations and holiday fun! Even amidst the trick-or-treating, costume parties and everything in between that people love about Halloween, it's important for children and adults alike to be safety-conscious and aware of potential dangers. It should come as no surprise that there would be some safety concerns during a holiday where everyone is running about in masks after dark, but that's no reason to let your Halloween be spoiled! Here is some important information to help you stay safe and aware this Halloween so you can still have a great time!
Scary Statistics
First of all, keep your eyes open, especially when crossing streets. Most Halloween parties and trick-or-treating occur after sunset and many costumes lack reflective surfaces, making it difficult for drivers to spot pedestrians. The number of child pedestrians killed on Halloween night is twice that of any other night of the year, so be sure to practice awareness when crossing streets and teach your children to do the same.
Safe costume design is another overlooked danger. Roughly 40 percent of parents allow potentially dangerous items as part of their child's costume. This can include loose clothing, masks or sharp objects such as swords or sticks. 12 percent of parents have reported that they allow their children 5 years old or younger to trick-or-treat without any kind of adult supervision, increasing the risk of injury or abduction.
Frightening Facts
Whether you're out trick-or-treating, at a party, or handing out candy at home, you should be aware of some legal responsibilities that can cause you trouble. Halloween parties can sometimes get out of hand, especially if alcohol is involved, and if anyone is injured on your property, you could actually be held responsible. If you serve alcohol at your party, you can also be held accountable for any accidents or incidents caused by intoxicated minors. By that same token, if you hold a liquor license and continue to serve drinks to a person who is visibly intoxicated, you can be liable if they cause any accidents. Of course, if you yourself drink and drive this Halloween, your legal penalties and fees may cost you more than many years' worth of Halloween costumes and party supplies.
Tantalizing Tips
 Never drink and drive. If you're going to drink at a Halloween party, get a ride from a friend, call a taxi, or stay the night.
Wear bright colors or add some reflective tape to your costume so that drivers can easily spot you at crossings.
Inspect any and all candy your child brings home and throw away anything that is unsealed or unwrapped.
If possible, avoid driving on Halloween night, but if you absolutely must, stay alert and watch for pedestrians. Children are especially excitable and tend to forget to look both ways before crossing the street.
Put emergency identification and contact information on costumes or wristbands in case children get separated or lost.
By arming yourself with this knowledge, you can help make this Halloween season fun and safe for yourself and your children. Sometimes accidents happen, though, even if you do everything right. When things go wrong and you need legal help, get the best Phoenix defense lawyers in your corner to fight your case. Call the Blumenreich Law Firm at (602) 252-2570 or contact us online and get a FREE consultation!