Phoenix DUI Lawyer for DWI and Other Traffic Offenses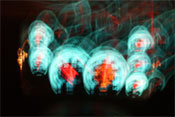 Arizona's DUI laws are as tough or tougher than any in the nation, you need an experienced Phoenix DUI attorney. This raises the stakes for drivers stopped and charged with driving under the influence. The influx of newer, stricter laws in recent years has resulted in harsher penalties many may not be aware of, making the need for an experienced DUI Lawyer absolutely imperative. If you've been charged with DUI/DWI in the Phoenix, Arizona region, we encourage you to consult with Josh Blumenreich and The Blumenreich Law Firm.
Do you know the difference between misdemeanor and felony DUI's? Are you familiar with the terms "Extreme DUI" or "Super Extreme DUI?" And are you aware that even convictions for a standard DUI carry mandatory license suspensions and jail time? The DUI minefield in Arizona is too vast and the collateral consequences too great not to have experienced counsel by your side. Fortunately, The Blumenreich Law Firm can help.
Attorney Josh Blumenreich represents clients in all types of DUI cases and against every type of DUI charge on the books in Arizona. His courtroom experience and ever-evolving knowledge of Arizona's DUI laws make him an inspired choice for DUI defendants. With so much on the line, in many cases involving not only driving privileges and financial well-being but also one's very freedom, you can trust The Blumenreich Law Firm to provide you with a focused, passionate, and well-informed defense.
The Blumenreich Law Firm is available to assist you in the defense of speeding tickets and other traffic charges that, unless defended against, could result in fines, the placement of points on your license, license suspensions and more. Make certain your rights are protected and enforced with the help of The Blumenreich Law Firm.