Tempe, AZ Criminal Defense Lawyers
Faced with charges? Let the expert defense attorneys build a solid defense for your case!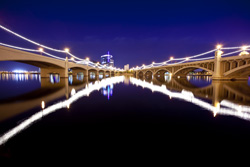 There is no denying that the city of Tempe has a thriving, exciting nightlife. From nightclubs thrumming with music and live bands to bars of every description, there is always something to keep you occupied into the early morning hours. Unfortunately, not everyone retains the good judgement to refrain from driving after a wild night out, and Arizona has one of the harshest stances on DUI (driving under the influence) of any state. In fact, the state of Arizona even has two additional classes of DUI charges called Extreme DUI and Super Extreme DUI that depend on the blood alcohol content of the person being charged. These charges carry far more dire consequences than "normal" DUI offenses. This is where the Arizona criminal defense lawyers at the Blumenreich Law Firm are your best option.
The defense attorneys at Blumenreich work tirelessly to protect the rights of our clients and we have a proven track record of integrity, support and, most importantly, results. Our experience spans a wide variety of legal cases, so no matter what offense you have been charged with, you can count on Blumenreich to build an aggressive defense, protect your rights, and facilitate the best possible resolution for your case. We work on a flat fee basis and offer an initial consultation for free because Josh Blumenreich believes that quality legal representation should be available to the people that need it most. We handle cases of all sorts, such as:
DUI/DWI
Drug & Narcotics
Domestic Violence
Theft & Property
And much more
Residents of Tempe, AZ can rely on the expert criminal defense attorneys at the Blumenreich Law firm to ensure their rights are protected in the court of law. If you've been charged with a crime and need a defense lawyer you can count on, then take your case to the top Arizona criminal defense attorneys. Call us at (602) 252-2570 or contact us online today for your FREE consultation!
« Previous Question | Back To Frequently Asked Questions | Next Question »
FREE Consultation - Click Here