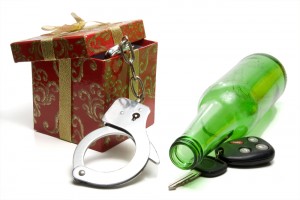 New Year's Eve and New Year's Day are two of the busiest days for Phoenix criminal lawyers and metro law enforcement. As holiday parties get out of hand when guests enjoy one too many cups of cheer, the potential for crimes increases. In fact, the New Year sees a rise in the crime rate in most major cities. Here are some of the most common crimes during the New Year's holiday celebrations.
Driving Under The Influence – Far too many drunken revelers will decide to drive themselves home in their inebriated state after a holiday party. Even worse, some of these intoxicated drivers also drive other people home, putting even more lives at risk. In some cases, random DUI checkpoints are set up throughout Phoenix to catch drunk drivers in the act. If you are planning on drinking at a party, it is wise to either make plans to stay over or instead find a designated driver to take you home. Taxis, Uber and dedicated DD services such as StearClear and BeMyDD can also lend a hand. A DUI on your criminal record can hurt your future prospects and impact your finances, but it can also it cause an accident that will ruin far more than your own life. Click here to read more about DUI penalties in Arizona.
Physical Assaults – When the holidays put everyone under one roof, tensions can rise. When everyone has had too many drinks, family arguments and feuds among friends can turn into violent physical altercations. Assault charges can constitute misdemeanor assault, as well as felony aggravated assault, with both carrying serious fines and/or jail time. For example, an aggravated assault charge is a Class 3 Felony that carries with it a penalty of 5-15 years in prison under Arizona law. Drink in moderation no matter the time of the year. If you stand accused of domestic violence or assault and battery charges in Phoenix, call the Arizona criminal lawyers at The Blumenreich Law Firm for dependable legal aid.
Sexual Offenses – Another result of impaired senses and clouded minds due to the over consumption of alcohol, sexual assaults increase from the start of the Christmas period all the way through to the beginning of the new year. Whether it is because an individual drank too much, had their drink spiked, or left the safety of their friends to go partying alone with strangers, sexual-related assaults can be avoided if you stay with your loved ones and refrain from excessive drinking. Always keep an eye out for any suspicious behavior and arrange what you and your friends are going to do ahead of time, ensuring that no-one strays from this plan.
Vehicle Theft – You may be surprised to learn that one of the most common criminal acts during the festive season relates to auto theft. However, this makes sense considering that many people are simply focused on other things. In 2011, a NYDailyNews.com article talked about the frequency of vehicular theft during the New Year's holiday. A KFOR.com article from 2013 reiterated this, citing a statistic from the Insurance Crime Bureau in which "over 4,000 vehicles were stolen on New Year's Day and New Year's Eve in 2012… with so many people going out to celebrate there's a lot more cars to steal." For that reason, always make certain that your car is locked and parked in a well-lit area. At The Blumenreich Law Firm, our experienced Phoenix, AZ criminal lawyers are able to help with many different types of theft charge, including property theft, robbery and burglary.
In an ideal world, no-one would be victimized by criminals, especially during the Christmas and New Year's holidays when the majority of people exhibit so much happiness and goodwill. Alas, this is not always the case. If you live in Arizona and require the support of our criminal attorneys, please contact us online or call 602-252-2570 today for a free consultation.