Attorney Josh Blumenreich Brings Unique Resume To The Defense Table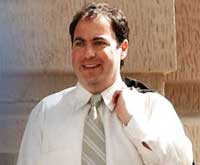 The majority of us go through life believing we'll never find ourselves in need of a criminal defense attorney. Should that day arrive however, the need for a qualified, experienced defense lawyer is paramount in protecting your rights. No matter where you live there is surely no shortage of defense lawyers, but that doesn't mean that all criminal lawyers are created equal. In Arizona, few defense attorneys boast the extensive and unique resume of Josh Blumenreich and the Blumenreich Law Firm. Josh's vast education, experience, and track record make him a proven advocate for those faced with criminal charges.
Few attorneys have had the privilege of experiencing both sides of the aisle in a courtroom as both a prosecutor and defense attorney. Josh Blumenreich is one of the few, and it is an experience that brings a unique perspective to his work at the defense table. A graduate of the State University of New York at Albany and a J.D. recipient from the Benjamin N. Cardozo School of Law at Yeshiva University in New York City, Mr. Blumenreich earned his stripes as Assistant Bureau Chief and Deputy County Attorney with the Maricopa County Attorney's Office.
There are a number of criminal charges that, when faced with, call for the help of an experienced attorney. No matter the charge, it is important to remember that you have rights, and they must be protected. Attorney Josh Blumenreich's track record includes extensive experience defending clients accused of:
DUI/traffic offenses
Drug and narcotic offenses
Theft and property crimes
Assault and domestic violence
Sex offenses
Murder
You can't be expected to be an expert when it comes to law; particularly the laws that apply to the charges levied against you. In such instances going at it alone is not an option, nor is settling for an attorney who may not be up to the task. Josh Blumenreich and the professionals at the Blumenreich Law Firm would like the opportunity to sit down with you, discuss your case, and provide you with the information and guidance you need to begin crafting a viable defense.
Visit www.phoenixarizonacriminallawyer.com today and schedule your consultation with Josh Blumenreich, and begin the process of mounting a vigorous and well thought-out defense of your rights.
---
Commentary:
The staff of The Blumenreich Law Firm hopes you've enjoyed the preceding article. It is our hope that its inclusion on our website provided you with pertinent and useful information regarding various aspects of the law and legal situations. Have you been charged with a misdemeanor or felony? Do you understand the nature of your case and your rights? Seeking legal representation is the first step in ensuring that your rights are respected and that a plan is implemented that addresses your specific needs. Continue to look here as we promise to point you in a number of useful directions. And while you're here, take a look around our website and learn more about why Josh Blumenreich is one of the most respected defense attorneys in all of Arizona. Thanks for spending some time with us, and be sure to visit us regularly for more great articles and legal tips.
---
« Previous Article | Back To Articles | Next Article »
FREE Consultation - Click Here