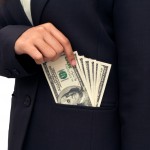 Embezzlement is a serious crime with serious consequences. There are many types of embezzlement crimes, so knowing the difference between embezzlement and other theft is very important in order to protect the rights of the convicted. We understand the different confines of embezzlement, and fight for the rights of those convicted to make sure that they are not charged with a crime they did not commit. We are committed to informing our clients about the law, which is why we have organized a list of some of the different types of embezzlement crimes in this month's blog. Check them out to stay informed and protect your rights!
Non-Registered Sales – This occurs when an employee pockets some or all money from a customer transaction without recording the sale. This can occur if a customer pays with cash and declines a receipt, allowing the employee to take the money without needing to make record of the purchase.
Check Kiting – This is the act of taking money from the companies banking account and depositing it into one's own personal account. A check is then drawn on the payroll account and deposited in the general expenses account to cover the earlier deposit, allowing the thief to hide the withdrawal.
Lapping – This type of embezzlement occurs over time, usually by a very diligent thief. The thief receives money for a customer transaction and pockets it, and then when another transaction occurs part of the money from the second transaction is stolen and used to cover the missing money from the first account. This type of skimming can continue over multiple transactions. This form of embezzlement involves continual monitoring of accounts and takes considerable time to formulate.
Falsifying Data – Using computers, an employee can easily input fake information or create fake accounts; stealing money by lying about information and creating false documents such as checks.
Making sure that you are not falsely accused of embezzlement means making sure the proper attorney is representing your theft case. If you have been charged of embezzlement or another type of theft crime, Phoenix criminal attorney Josh Blumenreich can provide you with a strong defense to help enforce your rights under the law. Call us at (602) 252-2570 today for your free consultation.