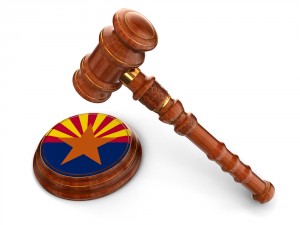 Arizona's continually evolving and ever-changing laws can be difficult to keep up with. Whether in regards to immigration, gun control, crime, or other serous societal issues, it is essential for residents to stay current so that they can protect themselves against potential offenses in the future. At the Blumenreich Law Firm, we understand that a criminal charge is a significant threat to one's life, which is why we offer our professional services to those in need. In Arizona, however, there are particular rulings to look out for.
Each state is in charge of creating their own specific laws that are directed and designed for their public, and Arizona is no different. To illustrate this, the following laws are unique to our state:
It is illegal to cut down a cactus
Riding a horse on the county courthouse stairs in Prescott is prohibited
One may carry a concealed weapon without a permit
It is illegal to produce imitation cocaine
When boating, it is a penalty for the operator to refuse a drug or alcohol test when requested by the authorities
An individual who is younger than 18 cannot purchase spray paint
It is illegal to deliberately target a laser pointer at an occupied aircraft
In age-restricted communities, such as Sun City, golf carts are allowed to be driven on the street
Abortion clinics may be inspected by health officials without a warrant
It is illegal to share a nude or sexually explicit photo or video of an individual without their consent
Individuals younger than 18 are prohibited from buying over the counter cough medicines that contain dextromethorphan, as it may cause hallucinations if too much is consumed during a short period of time
As highlighted above, the state of Arizona builds its laws and regulations based on its population and the surrounding environment. From our desert life to our neighborhood living areas, Arizona has constructed its laws to uniquely fit and apply to the state's people.
If you have been wrongfully accused of a crime, including anything listed above, please contact the Blumenreich Law Firm today to handle your case. We understand the pressure and anxiety that comes with a criminal offense, and we want to help alleviate any potential stresses and strains. The Blumenreich Law Firm will work diligently to represent you throughout the state of Arizona.